2013-01-13 @ Skerries (22 images)
Click a picture to see a larger view. | See also list of original size pictures. | Up

---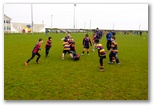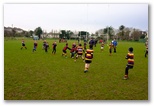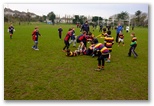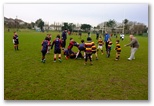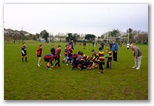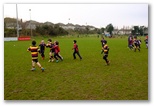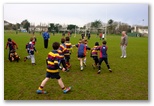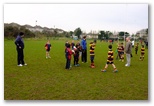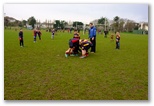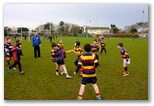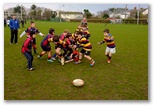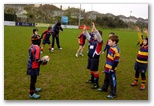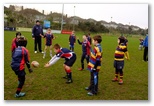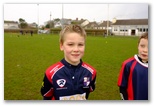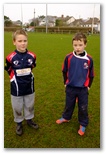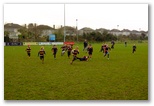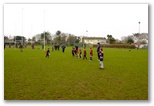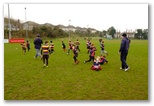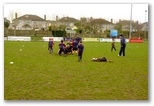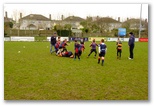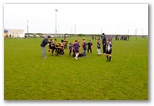 ---
Match Report
The New Year started with away games in Skerries. At 9.30 and despite a bitterly cold sea breeze 27 hardy Coolmine boys warmed up for action.
The group were divided into three teams of 9 and a total of 6 games were played. The standard across all the games was fairly level with many good team displays. On pitch A - Glen, Evan C, Finn and Conor combined good runs with fast passes and Donal made a 10 yard run for the try line only to be intercepted. Ben C and Ben working with Hugh and Harry tackled and passed and as a team the group worked together in testing conditions. The teamwork eventually paid off with Donal and Glen scoring great try's, following their good tackling.
The group on pitch B started well, with a series of passing runs starting with Jack passing to Darragh McIntyre to Matthew on to Darragh K back to Jack to Orainn and then to Paul and finally back to Darragh Mc. Such valiant passing and teamwork was not rewarded this time with the prize of a try. Though over the course of the two games Cian H, Alex and Matthew tackled and chased and eventually Paul Orainn and Jack scored tries for their team. The best tackle of the day was undoubtly by Darragh K. Jack O'Flynn chased half the length of the pitch and was unfortunate not to stop a Skerries try. A few minutes later Alex tackled and which resulted in Coolmine taking the ball from Skerries with Kolya making good distance and passing to Darragh K who scored a try.
On pitch C Skerries took advance of a surprisingly slow start by Coolmine and quickly scored. However the group soon got into the match and Charlie, Fintan, Cian, Ben and Evan all worked well together. In the second half pepped up by a half time talk from Gary, Dylan, Fintan, Jude and Luke combined well and almost reached the try line only to turnover the ball. However Skerries didn't get far as James then retrieved the ball back for Coolmine passed to Jude who drove the ball over for an impressive try.
---